Classes
HOUSE OF SPIN
Get ready for 60 minutes of high intensity, heart pounding indoor cycling set to the best high energy motivating music you want to dance on your bike to! Spinning® is low impact so our classes can accommodate all ability levels. There's something for everyone,  Intervals, rolling hills, sprints, climbs, runs, surges and jumps all to music hand-picked to motivate and challenge!
When: MONDAYS & WEDNESDAYS- 6:00PM-7:00PM
Instructor: Angelica Quintana
WATER AEROBICS
Low Impact water exercise class incorporates cardio, strength and core training movements – all at your own pace.
WHEN: MONDAYS, WEDNESDAYS & FRIDAYS- 8:00AM
TUESDAYS & THURSDAYS- 5:30PM
​
Instructor: Mary Abeyta
---
H.I.T.T.
(High Intensity Interval Training)
36 minutes consisting of cardio drills, weights, and core work. This class includes Tabata and other training techniques that will alternate between your max effort and short, sometimes active, recovery periods. This type of training gets and keeps your heart rate up and burns more fat in less time!
WHEN: TUESDAYS & THURSDAYS- 5:00PM
Instructor: Brittany Johnson
BOXING & MUAY THAI
60 minute class that teaches self-defense, the fundamental skills of boxing and the kicks, elbows and knee strikes of Muay Thai. You can expect a great cardio and endurance workout with a variety of drills including Muay Thai and Boxing Techniques. All Levels Welcome!
WHEN: WEDNESDAYS at 6:30PM
​
Instructor: Gabriel Miranda
---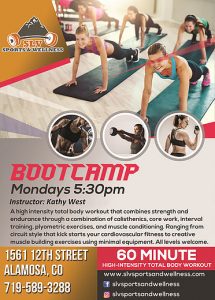 BOOTCAMP
60 minute high intensity total body workout that combines strength and endurance through a combination of calisthenics, core work, interval training, plyometric exercises, and muscle conditioning. All Levels Welcome!
WHEN: MONDAYS at 5:30PM
Instructor: Kathy West
SPIN CLASS
60 minute low impact, cardiovacscular indoor cycling classes- the ultimate calories killer. Pedal through hill climbs, sprints, and many other challenging drills and exercises. Go at your own pace and enjoy a group exercise session full of motivation and sweat! All Levels Welcome!
WHEN: TUESDAYS & THURSDAYS at 5:30PM
Instructor: Kathy West
---
Circuit Xpress
An intense, full body workout that includes burpees, box jumps, pull-ups, push-ups, kettlebells and much more! Keep your body guessing with this intense workout that is never the same! All Levels Welcome!
WHEN:
Tuesday & Thursday 12:10pm-12:40pm
Monday, Wednesday & Friday 5am-6am
Instructor: Dez Peterson
Zumba
A mix of low-intensity and high-intensity moves for an interval-style, calorie-burning dance fitness workout! All levels welcome!
WHEN: Wednesdays 5:30pm-6:30pm
Instructor: Rose Ramirez
---